Happy Mother's Day! One Mother's Day that had a huge impact on my life happened while I was still playing with dolls and pretending to be a mother. When I was seven, my Mom received a piano from my Dad for Mother's Day, even though she didn't play. I remember the delivery men grudgingly hefting the oak Schafer & Sons console up the stairs of our split entry home.
I was fascinated! I loved the feel of the shiny white keys under my small fingers and the way the pedals felt under my feet. My legs weren't long enough for me to sit on the bench and play the pedal at the same time, but I figured it out! Oh, the sound that I could create! There was no sound until I created it, and how I explored!
Soon after, I started piano lessons with the lady down the street. I found out later that my sweet mother cleaned the piano teacher's home to pay for my lessons.  Each new song was exciting and fun as I made my way quickly through John Thompson's red method for beginners ! I'm so thankful to my own Mother for her sacrifice and encouragement along the way.
Fast forward a few decades. Years of piano through high school and college have led me to owning my own piano studio, so I can stay at home with our children and hopefully inspire other students as my teachers have in the past. We have two pianos plus a digital piano in the home studio. My Mother still has her piano, although I didn't enjoy playing on it much anymore. Five siblings in piano lessons can do a number on a piano! I had recently finished refurbishing my first piano at McGuire Piano and was ready for a new project. My parents had just sold the home of my youth and their piano needed to be moved anyway. So we brought it in to my shop to see what could be done to restore some of its sound. As I took out the action and removed the keys, memories came flooding back! I found the music paperclip that had fallen between the keys that I thought was lost forever! I wished then that I knew how to remove keys! Other memorabilia was found, some claimed by my siblings, others not.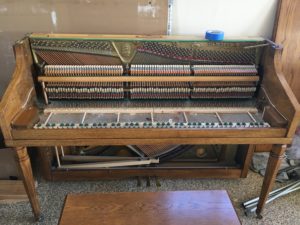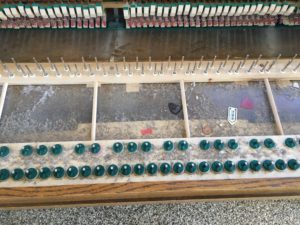 The inside was cleaned, hammers shaped and voiced, and small repairs made to the action and the cabinet.
As I was playing this familiar instrument after some hammer voicing work, the sound came to me! It was the sound the piano had all those years before! I have come to appreciate the sound created by a decent pianist on a well made piano. This piano didn't sound quite like that, but it was the familiar sound I had grown up with and first learned to listen on. It was back, and I enjoy playing it again!
My parents new home isn't built just yet, so the piano is being enjoyed by my nephew who fondly refers to it as "his piano". I hope he enjoys learning to listen on that piano. Maybe it will change his life, just as it changed mine. And to my own Mother, Happy Mother's Day, and thank you for the Mother's Day that changed my life.